The lunch break we've all waited for! is the seventh chapter of Dragon Ball Multiverse. It starts from where Krillin kills Salza to the rampage of Broly.
Plot
Salza attempted to charge an onslaught at Krillin, but Krillin easily knocked him around with the turtle shell on his back. Angered from his words, Salza forms an energy sword and rushes at Krillin. Krillin would then make his own destructo disk and throw it at Salza, bifurcating half of his limbs and killing him in an instant. Gokū walks over to greet Krillin, but Krillin was confused due to him never meeing Gokū in his universe. He walks off referring every fighter as unrespectful.
The first half of the tournament came to a close and it was time for a lunch break. Each competitor and observer was seen eating at their respected lunch tables, except
Cell
and his Cell jr.
Piccolo
asked
Vegetto
on who will win the tournament. Vegetto was assure that he would win, even after stating that there's still
Super Buu
to worry about.
Bra
refers to
Broly
as she was worried about him. Vegetto then replies that his power has grown so much that he was not sure he could beat him.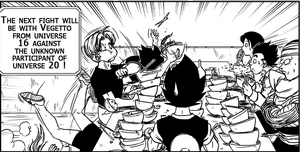 The next match was Vegetto versus Broly. The Vargas was preparing to release Broly from his frozen state, but the Namekian did not think of it as a good idea. Gokū and Vegeta begin to worry about everyone's safety, so they and Gohan order the others to go to the spectator bleaches. The Namekian then uses his healing powers to unfreeze Broly, but Broly instantly killed a Vargas as soon as he's unfrozen.
Broly then releases a high amount of power and fires multiple ki blasts at everything. All the fighters manage to either dodge or deflect the blasts. The Vargas tried to send Broly back to his universe, but Super Buu manages to break the curKiwit needed to do so with his magic. Broly then notices Gokū and proceeds to rush at him.

Trivia
The Namekian healer could possibly be Dende.